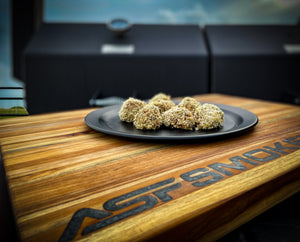 Smoky Boudin Balls
If you like boudin, then you'll love this smoked boudin balls recipe.  It puts a flavorful twist on a tasty snack that you're sure to love, and it's all made possible on the ASF BBQ Pit!
Prep Time: 10-15 minutes
Cook time - 25 minutes
Ingredients/Materials:
1 pound of Boudin Balls
4 eggs whisked
Bread Crumbs
Foil
Mesquite Charcoal
Step 1 - Start a fire on one end of the ASF BBQ Pit with a large pile of mesquite coals. 
Step 2 - Dip each boudin ball in the whisked eggs and then roll them in the bread crumbs until thoroughly battered.
Step 4 - Place the battered boudin balls on a sheet of foil.
Step 5 - Once the mesquite coals have burned to a gray color and the end of the pit that is opposite of the coals is holding at 300-350 degrees F, place the sheet of foil with boudin balls on it, on the grill.  Note: You don't want to place the boudin balls directly over the coals — You are putting them on the grill on the end of the pit that is furthest away from the burning coals..  The idea is to bake them in the pit at about 325-350 degrees F.  If you place them directly over the coals, the bottom of them will burn or cook faster, rather than cooking evenly, all the way through. 
Step 6 - Grill/cook the boudin balls for 25 minutes, or until they are browned and cooked through.
Step 7 - Remove the boudin balls from the grill and allow them to rest for 5-10 minutes.
Step 8 - Serve and enjoy!
Tip:
If you can't get your hands on some boudin balls from a local meat market, you can make your own! Simply follow these instructions:
 - Mix 1lb of ground pan or breakfast sausage, two cups of cooked white rice, and 1/4 cup of finely diced green onion or chives in a bowl.
Form this mixture into tablespoon sized balls
Now you can follow the steps above!
---