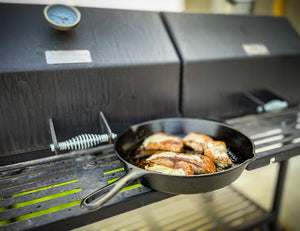 Seared Cobia Steaks
There's nothing like cooking what you catch, especially when it's been freshly caught in the Gulf of Mexico. This cast iron skillet recipe for pan seared cobia steaks is made super simple to whip up on your ASF Smoker. Your taste buds will thank you! 
Prep Time: 10 minutes
Cook Time: 8-10 minutes
Ingredients/Materials
1/2 inch thick fresh cobia steaks/fillets
9 ounces Hellmann's Cilantro Lime Sauce
3 limes
Kosher salt
Coarse ground black pepper
Olive Oil 
Cast Iron Skillet 
Charcoal
Spatula
Small Pot
Step1: Light a fire in the ASF Smoker using wood or a large pile of coals 
Step 2: Season both sides of each cobia steak with coarse ground black pepper and kosher salt
Step 3: Pour some olive oil in the cast iron skillet until there is a thin layer covering the entire bottom of the pan
Step 4: Place the cast iron skillet on the bottom grill of the ASF Smoker, directly over the pile of burning coals
Step 5: Cut 3 limes in half
Step 6: Pour 9 ounces of Hellmann's Cilantro Lime Sauce into the small pot and squeeze the juice from half of a lime into it. Stir thoroughly with a spoon.
Step 7: Place the small pot of cilantro lime sauce on the top grill over the pile of burning coals. 
Step 8: Sear the sides of the cobia steaks in the cast iron skillet for about 3-4 minutes each. When you flip the cobia steaks, squeeze lime juice over them using the limes that you cut in half.
Step 9: Once each cobia steak appears white and flakes to the touch, drizzle some cilantro lime sauce on top of them.
Step 10: Remove the skillet with the cobia steaks from the grill. Serve and enjoy!
 Recipe submitted by @skinneroutdoors
---