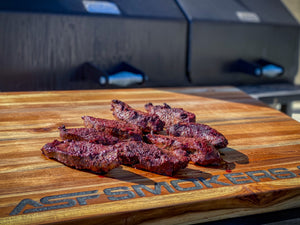 Reverse Seared Bourbon & Brown Sugar Sandhill Crane
Many hunters and wild game enthusiasts refer to the Sandhill Crane as the ribeye in the sky.  That's because their breast meat is as tender and juicy as a prime cut ribeye when it is cooked to perfection.  This recipe will teach you how to do just that on your ASF BBQ pit.
 Prep Time: 15 minutes
Cook Time: 22 minutes
Ingredients
3 sandhill crane breasts, deboned and cut in half
Tablespoon of favorite rub or steak seasoning
Tablespoon of fresh ground black pepper
 Step 1 - Slice the sandhill crane half breasts across the grain into strips that are about 1-1.25 inches thick. Mix the listed ingredients thoroughly in a large bowl, creating a marinade. Allow the strips of sandhill crane breast meat to marinate for 5 hours.
Step 2 - After the meat has marinated for at least 5 hours and you are ready to cook it, start a fire on one side of the ASF BBQ pit with a large pile of charcoal. Allow the charcoal to burn down until it appears gray.
Step 3 - Place the strips of sandhill crane breast meat on the opposite end of the grill as the coals.  The goal is for this end of the grill to be holding at about 350 F.
Step 4 - Allow the sandhill crane strips to cook on this side of the grill for 20 minutes, and flip each strip at about the 10 minute mark.
Step 5 - After 20 minutes, place the strips on the section of the grill that is directly over the coals.  Sear each side of each strip for one minute.
Step 6 - Remove the sandhill crane strips from the grill and allow them to rest for 5-8 minutes. Then serve and enjoy! 
***Note: This recipe will grill the sandhill crane meat to a medium rare - medium stage.  If you prefer your meat more well done, you will need to grill it longer.
 Recipe submitted by @skinneroutdoors
---