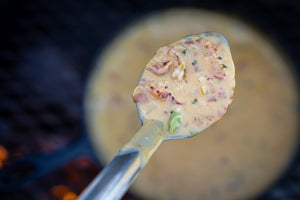 Crawfish Queso
If the idea of Crawfish Queso makes your mouth water, just wait until you see how easy it is to make! This crawfish queso dip recipe with Velveeta is perfect for Mardi Gras, game day tailgating, or anytime!
Ingredients
8oz Kraft Velveeta Cheese
14oz Fresh Pico de Gallo
12oz Crawfish tails
1/4 Cup heavy cream
1 Teaspoon of Creole or Cajun seasoning
Step 1: Cube Velveeta cheese
Step 2: Combine ingredients in a cast iron pan
Step 3: Smoke on your ASF Smoker until melted 
Step 4: Enjoy with tortilla chips or french bread!
---