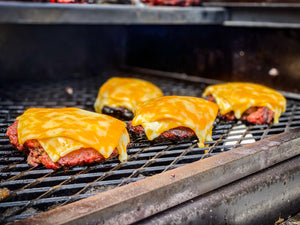 Bacon Stuffed Venison Cheeseburgers
In honor of National Cheeseburger Day, we kicked it up a notch with this Bacon Stuffed Venison Cheeseburger recipe! This simple dish is sure to take your burger game to the next level. This simple recipe is sure to take your burger game to the next level. Juicy cheeseburgers dripping with flavor await!
Prep Time: 15 minutes
Cook Time: 20-25 minutes
2lbs venison hamburger meat
1/2lb thick cut bacon
Sliced cheese
BBQ sauce
Bread crumbs
2 eggs
Salt
Pepper
Step 1 - Light a fire in the ASF BBQ pit with a large pile of charcoal.
Step 2 - Dice up 1/2 pound of bacon and mix in a bowl with 2 pounds of venison hamburger meat.
Step 3 - Pour 6 ounces of BBQ sauce into the bowl.
Step 4 - Crack two eggs into the bowl.
Step 5 - Thoroughly mix the meat and ingredients in the bowl using your hands.  Add bread crumbs until the mixture of meat has a consistency that will stick together when formed into patties.  (Note: You may also want to add more BBQ sauce to achieve the right consistency)
Step 6 - Create 8 hamburger patties from the mixture of meat in the bowl.
Step 7 - Season each patty with salt and pepper.
Step 8 - By now, the coals in the pit should be ready to cook on. Place each hamburger patty on the grill over the coals. Grill each side of each patty for about 10 minutes each (20 minutes total).  (Note: You can grill them longer if you prefer them to be well done.)
Step 9 - Melt two slices of cheese on top of each hamburger patty.
Step 10 - Serve the bacon stuffed venison cheeseburgers on a toasted bun with all the fixings, and enjoy!
Recipe submitted by @skinneroutdoors
---