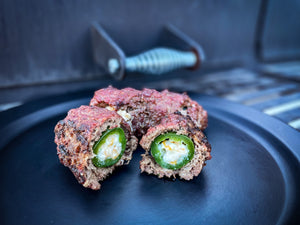 ASF Axis Bombs
If you like axis meat and jalapeño poppers, then you're going to love cooking this dish on your ASF BBQ Pit.  The end result of this ground axis deer recipe is incredibly tasty!
Prep Time: 25-30 Minutes
Cook Time: 30-45 Minutes
Ingredients:
2 pounds ground axis meat (hamburger)
10 large whole jalapeños
8 ounces cream cheese
2 eggs
Hamburger seasoning
Breadcrumbs
1 cup Shredded Colby-Jack Cheese
BBQ Sauce
Step 1 - Start a fire on one end of your ASF BBQ Pit using a large pile of coals.
Step 2 - Cut the top and stem off of each jalapeño pepper.  Core out the inside of each pepper and remove the seeds and veins.  Wash the inside of the pepper out with cold water.
Step 3 - Mix one cup of shredded Colby-Jack cheese and 8 ounces of cream cheese in a large bowl.
Step 4 - Stuff each jalapeño pepper with the Colby-Jack/cream cheese mixture.
Step 5 - Mix 2 eggs, 2 pounds of axis hamburger (ground) meat, and hamburger seasoning in a large bowl.  Mix in bread crumbs and a splash of your favorite BBQ sauce for added flavor.  Keep adding bread crumbs and mixing until the mixture becomes the consistency of what you would use to make hamburger patties.
Step 6 - Wrap the axis hamburger meat around all sides and ends of the stuffed Jalapeño peppers in an oval/bomb shape.
Step 7 -  When the ASF BBQ Pit is holding at about 300-350 degrees, place each uncooked axis bomb on the end of the grill that's furthest away from the hot coals.  Leave them on this side of the grill and allow them to cook over indirect heat for about 20-30 minutes. 
Step 8 - Move the axis bombs to the hot side of the grill where they can sear over the hot coals.  Rotate and flip them frequently while allowing them to cook for 8-10 more minutes.
Step 9 - Remove the axis bombs from the grill and allow them to rest for 3-5 minutes.  Serve these jalapeño deer poppers and enjoy!
---